Network SouthEast
From N Gauge wiki
Network SouthEast (NSE) was a state of the art passenger sector of British Rail which was formed in 1986. Previously this sector of British Rail was called London & SouthEastern. Standards of train punctuality, cleanliness and passenger service improved dramatically during the operation, as well as new trains, refurbishment of stations and the building of new station buildings. The livery that the majority of loco's and trains received was red, white, blue and grey - also known as toothpaste.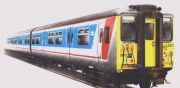 Following privatisation, the operation of the service was split into franchises and passed to LTS Rail, Chiltern Railways, Great Eastern Railway, Thames Trains, Island Line, North London Railways, South Eastern, Network SouthCentral, Thameslink, WAGN, and South West Trains. Some of these have since changed to new companies where they've introduced new liveries.
N Gauge Models
There are currently no Network SouthEast models in production in n gauge.
Past models:
Class 33 - revised livery 33 035 'Spitfire' (Graham Farish) - (371-127)
Class 47 - revised livery 47 598 (Graham Farish) - (8024)
Class 47 - original livery 47 582 'County of Norfolk' (Graham Farish) - (8018)
Class 50 - revised livery 50 002 'Superb'(Graham Farish) - (8408)
Class 73 - revised livery 73 136 (Dapol) - (ND012b)
Class 73 - revised livery 73 129 'City of Winchester' (Dapol) - (ND012a)
Class 86 - original livery 86 401 (Dapol) - (ND099M)
Class 101 - revised livery. 3-Car DMU. (Graham Farish) - (8148)
Class 159 - NSE livery. 3-Car DMU. (Graham Farish) - (8748)
Mk2 FOd Carriages (Graham Farish) - (0818)
Mk2 TSOe Carriages (Graham Farish) - (0808)
Buying Parts to Convert Stock Suitable for NSE
BH Enterprises produces various kits and cab ends for various Multiple Units. Electra Railway Graphics designs vinyl's to convert carriages and other stock. Taylor Precision Models produces many parts for Multiple Units. N Train uses 3D Printing to produce Multiple Units intended to work with Electra Railway Graphics.
---
Links